The city of Herentals wanted to package the best the region had to offer in a Streke Doos
Herentals is a city in the province of Antwerp, made up of the municipality of Herentals itself and the districts of Morkhoven and Noorderwijk. The city had been toying with the idea of creating a gift box packed with local products for some time. Herentals, Noorderwijk and Morkhoven are home to lots of local producers and creators, making their own products either professionally or as a hobby.
Under the leadership of Lies Michiels, Local Economy Expert for the city of Herentals, and with support from De 6 van de Kempen, the European Regional Development Fund (ERDF), the Province of Antwerp, the Flemish Government, Herentals's regional producers, creative makers and Versmarkt Van Eccelpoel, the idea for a new box called the 'Streke Doos' was born.
The Streke Doos: the perfect way to get carried away
"The city of Herentals had been toying with the idea of launching a gift box packed with local products, to promote our local economy.
There are a large number of fantastic local producers and creative makers living and working in Herentals, Noorderwijk and Morkhoven. All of them passionate and driven people, always ready to roll up their sleeves in order to enrich our city with wonderful products. For some it's their main profession while for others it's a hobby that has got out of hand, resulting in a successful side business. Whatever their approach, they each put their all into their creations, products and delicacies. The 'Streke Doos' box, made locally from start to finish, will help to give our regional products the attention they deserve," says Lies Michiels.

Topa came up with a custom-made sample box
The city of Herentals wanted a beautiful, printed box to package the local products in. Something that would be recognisable straight away and would make the link to Herentals and its local products. That's how Lies ended up in contact with Topa: "After sending out a number of different requests for quotes, we made the decision to work with Topa quite quickly. The Packing Specialist presented a customised sample box the very first time we met. That really appealed to us, because it meant we could check the proportions thoroughly, after which we made some adjustments."
"The various designs were then presented to the city departments, regional producers and creative makers themselves. They were of course included in the decision-making process and invited to submit ideas for the box. It had to be a box that would offer people a real unboxing experience. It also needed to have a distinctive character," Lies explains.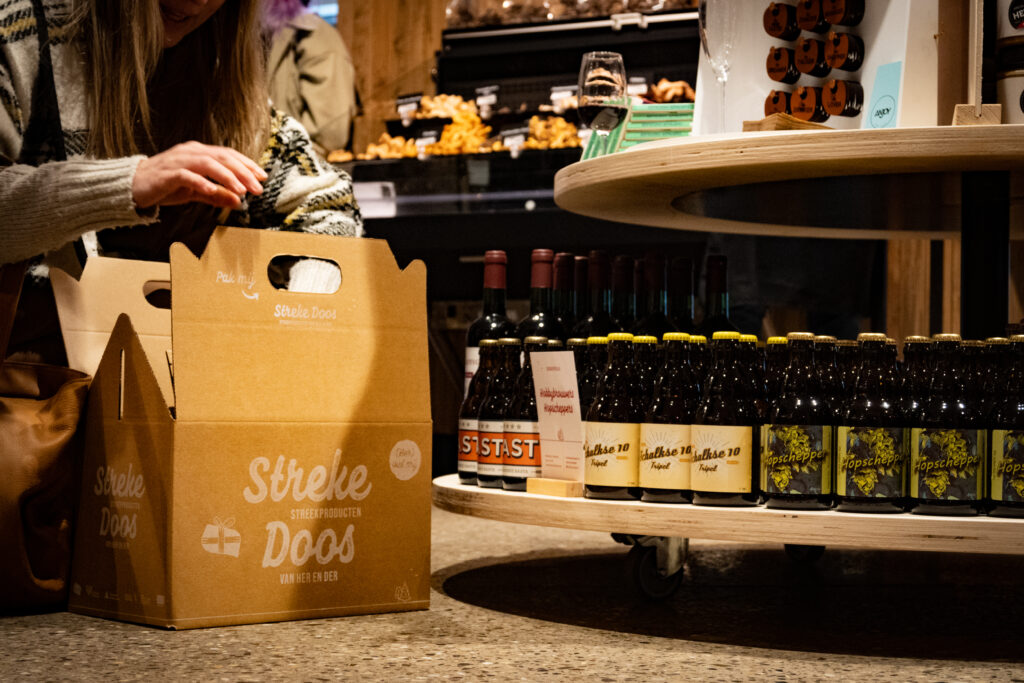 And it certainly did! The city of Herentals eventually chose a printed box made entirely from Kraft, with white text and an attractive handle. It's like a sort of basket that makes it easy to carry your local products home. "We wanted to work with a Kraft box, and Topa were able to help us with that. Topa were able to help with the dividers that had to fit perfectly inside the box too. The cooperation with Topa was also very professional! Communication was very quick and smooth, absolutely ideal. Topa was a fantastic partner throughout the project," Lies concludes.
You can fill this box yourself with the very best that Herentals, Noordewijk and Morkhoven has to offer. The largest range of regional products is available at Van Eccelpoel, Lierseweg 26. Other sales points with a smaller selection of regional Herentals products are:
Bakkerij Mens, Wasserijstraat 7
Belgische Saffraan, Leefdaalstraat 14
Brouwerij Leysen, Meivuurstraat 2
Culinaire Slagerij Brabants, Lierseweg 27
Trap op Shop, Bovenrij 30
If you or your organisation are interested in having a printed box made to fit perfectly with your own brand, please don't hesitate to get in touch!
Contact
If you have any questions, please contact us.