Free fall drop tester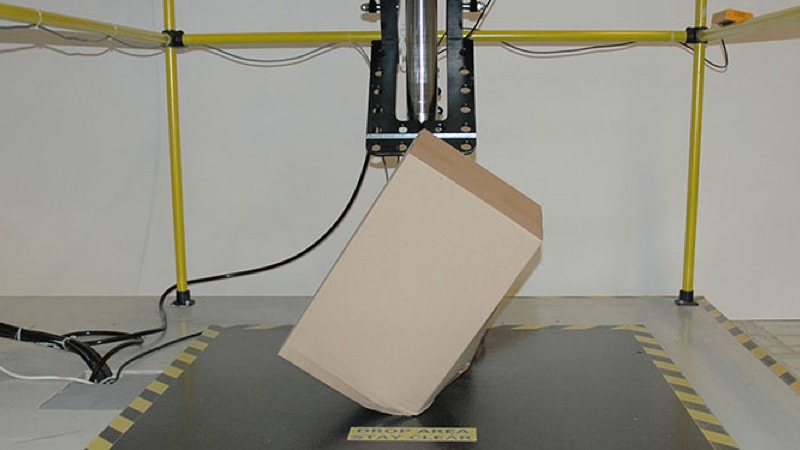 If packages fall during transport, it can cause a lot of damage. By performing a free fall drop test, the protective functioning of the packaging is examined.
This test will demonstrate whether your product is sufficiently protected against shock movements during transport.
Or is the product too well wrapped?
With an optimized packaging, costs can be saved.
Contact
If you have any questions, please contact us.
General cargo shipment
By means of the free fall drop tester, falling, dropping, and shocking of general cargo during transport is simulated. The goal is to investigate whether the packaging provides sufficient protection for the product. Depending on the weight of the product/packaging combination, the drop height is determined. The package is placed on the table of the free fall drop tester in various ways to precisely determine where the impact of the drop occurs: the top, the short side, long side, corner, rib, etc. A G-value measurement can also be performed during the drop test. Especially for electronic products, it can be interesting to know at which G-value the product will no longer function.
Various possibilities
Free fall drop tests exist in many ways and can be conducted in accordance with international standards as ISO, ISTA and ASTM and client-specific procedures. Possible international standards are:
All ISTA standards
ASTM D4169
ASTM D5276
ASTM D7386
ISO 2248
ISO 4180
Maximum sizes and machine information
Manufacturer: LAB type AD160A
Maximum format test product: 125 x 100 x 100 cm
Maximum weight test product: 72,5 kg
Drop height: 300 - 1820 mm
Calibration interval: annual