Speedbox lives up to its name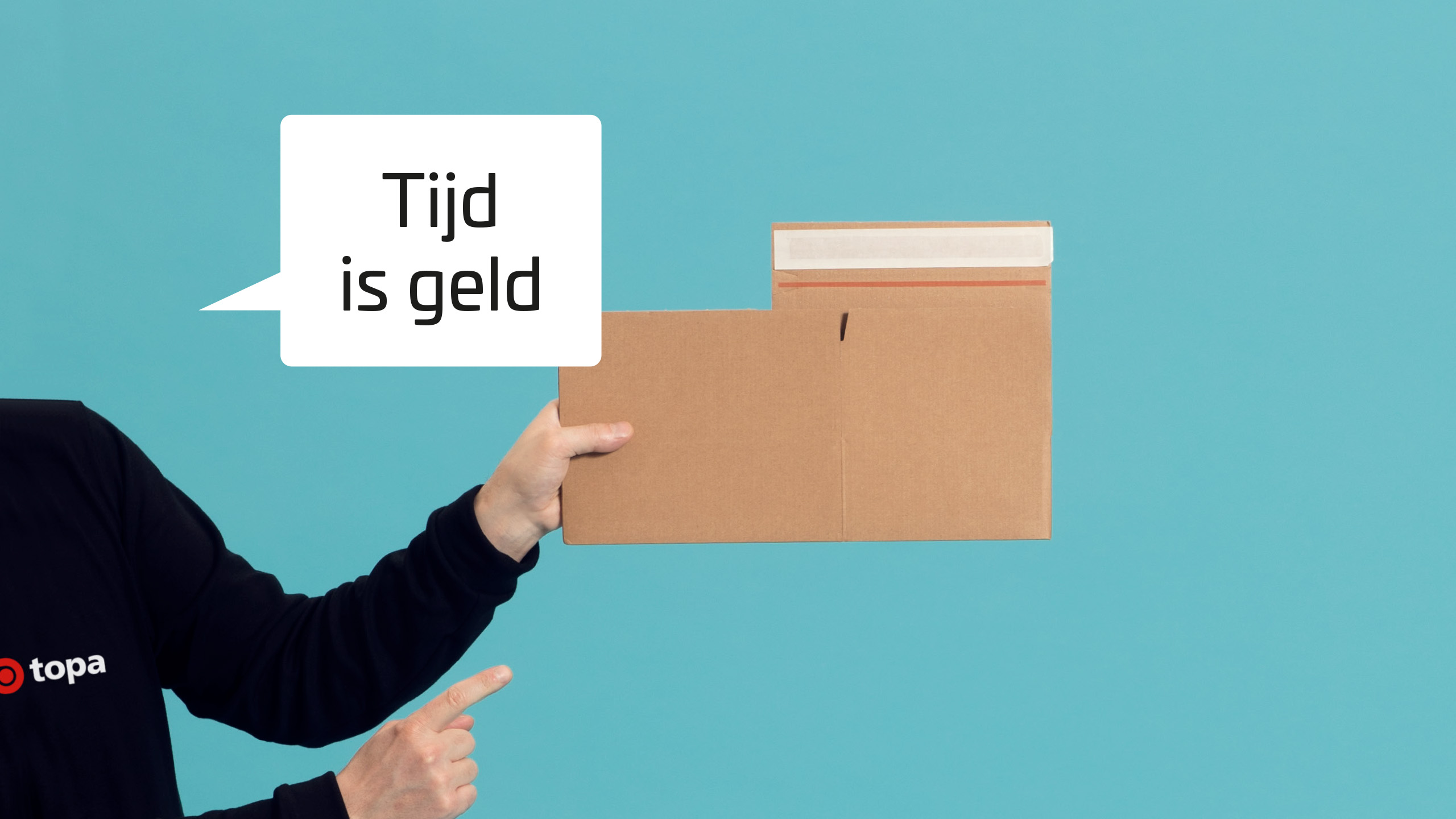 "I highly recommend the Speedbox. Because with it, you pack 2 to 3 times faster than with a conventional box. So the Speedbox saves you a huge amount of time. The Speedbox is available in more than 60 different versions."
Speedbox assembles in record time
Packaging products really is two to three times faster than with an American folding box. You quickly set it up, put your products inside, fold it, close the box with the self-adhesive closure and the Speedbox is ready for shipment. Speedbox lives up to its name, because thanks to the flat autolock bottom, the Speedbox is also strong at the bottom. This ensures more carrying capacity. The tear strip also makes opening the box super easy for the recipient.
The standard Speedbox and the Speedbox Lite are runners-up
There really is a 'run' on Speedbox. It is a super successful box. The Speedbox is one of our biggest growers. But then that mainly applies to the standard and the 'Lite' version. Speedbox Lite is lighter and therefore slightly cheaper to buy. Speedbox Lite is suitable for lighter and non-fragile products, such as clothes.
Speedbox Plus lets you pack in ten seconds and prevents theft
Speedbox Plus is an innovation from Topa that allows you to pack products three times faster than with an American folding box. This makes packing only a matter of about 10 seconds. This is due to its unique design. After filling the box, you remove the adhesive strip and close the box in one operation. This is because the four flaps are connected at the top. This super handy closure also prevents theft.
Our mission is to raise awareness of this revolutionary product so that everyone can pack their products super fast.
Speedbox Duo packs and unloads very economically for you
The name Speedbox Duo says it all: the box has a flap with a double self-adhesive closure and, like the other Speedboxes, a tear strip, of course. This allows the recipient to return the shipment very easily. This is no superfluous luxury. Because at e-commerce companies, around half of all shipments are returned. With Speedbox Duo you prevent recipients from handling the return shipment themselves. If they do not do this properly, the contents can be lost. If they overdo it with tape and string, you lose a lot of time unpacking. So with Speedbox Duo, you provide service to your customer with return ease. And you save time yourself when packing and unpacking.

Speedboxes are also very durable
There is a huge 'drive' to be sustainable with packaging products. Speedboxes are made of recycled material and are fully recyclable. They are recycled through the collection circuit for paper and cardboard. Speedboxes therefore reduce environmental impact and create a greener footprint.
You can easily personalise the Speedbox
You can easily get Speedbox printed. With your brand or company's logo and slogan, for example. This is your calling card. Especially as Speedbox stands for ease of packing and unpacking. Customers have a very positive unpacking experience.
The Speedbox is favourably priced and expensive tape is no longer needed
Speedboxes are slightly more expensive to buy than an American folding box. But they save you a lot of time. Moreover, there is no more expensive tape involved, which also saves time and money. In addition, they represent packing convenience … and that is priceless.
A great addition to the automated packing process
Many companies work with box closing machines or box folding machines. Then there are always products that fall outside the logistics process in terms of dimensions. Here too, Speedbox offers a solution. In no time at all, you will have packed those products.
Ideal for companies that have picked up shipping themselves
Speedbox is widely known to companies that already have a lot of experience in packaging their products and materials. It is a successful product that is widely used in the market and popular with e-commerce companies.
But it is also an ideal packaging for shops and companies that have started a webshop - sometimes at the hands of corona - and have taken up shipping themselves. With Speedbox, at least, they've got it done quickly.
Wondering how much time and money Speedbox will save you?
Contact us or visit topashop.nl/speedbox.
With greetings from the packaging specialist
You pack it with Topa
Contact
If you have any questions, please contact us.