Air Cushioning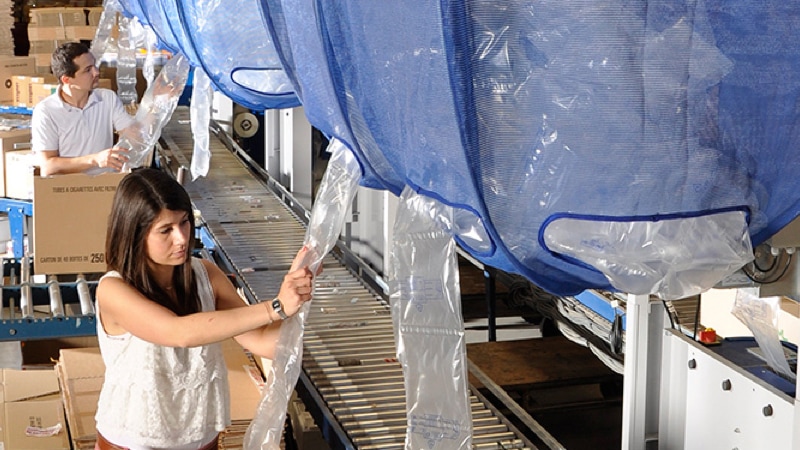 Air cushions offer a lot of application possibilities for protection of goods in the packing. Air cushion machines can be used all-round, using various sizes of air cushions. The foil is recycable and firm. For every application, another type of air cushion can be used.
Contact
If you have any questions, please contact us.
Bescherming in de verpakking
Snelle handling, plaatsbesparing en een goede bescherming van het product zijn de uitgangspunten van luchtsystemen. Voor de verschillende toepassingen zijn diverse luchtkussenfolies beschikbaar. Afhankelijk van het te verpakken product, doosafmeting en de wijze van versturen, kunnen één of meerdere uitvoeringen toegepast worden. Compacte systemen, zoals die van FP kunnen tevens geïntegreerd worden in uw verpakkingslijn.
Cell-O green luchtkussens
Cell-O™ is een verpakkingssysteem dat compacte rollen HDPE folie snel verwerkt tot een geperforeerde ketting van luchtkussentjes.
Novus luchtkussens
De Novus luchtkussens bestaan uit vier verschillende uitvoeringen die gecombineerd gebruikt kunnen worden: Quilt-Air™ Small, Quilt-Air™ Large, Double Cushion®, Supertube®. Een combinatie van Double Cushion® en Super Tube® zorgen voor een uitstekende opvulling.
Pillow Pak green luchtkussens
Deze luchtkussens bevatten ten minste uit 12% gerecycleerd PE en zijn 100% recycleerbaar, zodat het milieu minder wordt belast.
Voordelen
Ter plaatse en op afroep te produceren, bespaart werk en verhoogt productiviteit
Veelzijdig toepasbaar en makkelijk in gebruik
Bespaart magazijnruimte
Weinig materiaal nodig
Herbruikbaar en recyclebaar, vriendelijk voor de ontvanger
Air cushions offer the optimal protection for light and heavy products. Air cushions of Cell-O Green, Novus and Pillow pak Green can be used combined.
| Air cushion | Application | Suitable for |
| --- | --- | --- |
| Cell-O Green | Filling and protection | Light products |
| Novus | Supertube: particularly suitable for protection of the corners Double Cushion: perfect to fill large, empty spaces Quilt Air Large: ideal when large bubble wrap is needed Quilt Air Small: good alternative for traditional bubble wrap | Medium and heavy products |
| Pillow pak Green | Wrapping, fixating, protecting and filling | Light and medium products |