Geami WrapPak
Geami WrapPak® is the newest in the field of packaging and protecting. This unique material has a very high presentation value and is developed for the retail/e-commerce market where a representative welcome is important. There are also industrial applications conceivable. Geami WrapPak® is the perfect solution for companies who wants to give and extra dimension to the experience of their products with their packing.
Order online
Check out the products within this category that are directly available in our webshop.
Go to the Topa webshop
Contact
If you have any questions, please contact us.
3D Honeycomb structure
Geami WrapPak® consists of a patented cutout kraft paper and a layer inbetween of white tissue paper. The cutout kraft paper is available in two colors: brown and white. The Geami WrapPak HV (High Volume) machine ensures that the paper expands in a 3D honeycomb structure. This structure ensures a unique protection with the wrapping and packing of products. Because the paper is hooked into eachother, there is no tape needed and the products are firmly packed. The machine works on high speed, is compact and easy to integrate in every package environment. The tissue paper is currently available in white (other colors on request). In combination with the 3D honycomb structure of kraft paper, the wrapped product gets a different appearance, which differs from the standard protectionmaterial (for example: bubble wrap).

In the current retail and e-commerce market 'experience' is an essential factor to distinguish your company from the competition. By bringing this element back in the packaging, the product will be experienced in a positive way when unpacking. Because of this, companies can position itself better.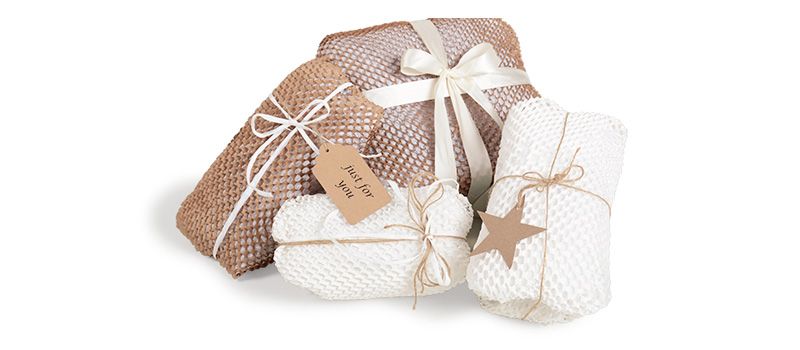 The Geami machine expands the material with high speed, is compact and easily to integrate in every packaging environment.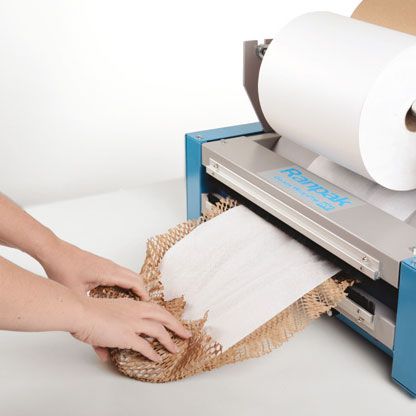 Dimensions: 71,2x50,8x43,2 cm
Weight: 55 kg
Voltage: 100-240 Volt
Power: 320 Watt
Speed: van 0 tot 0,75 m/s
Cutting method: manual
Geami WrapPak paper
Original Geami WrapPak consists of 80 gram brown or white cutout (DC) paper and the silk blend (TI) is 22 gram white. During the proces the cutout paper will be stretched until 168% of the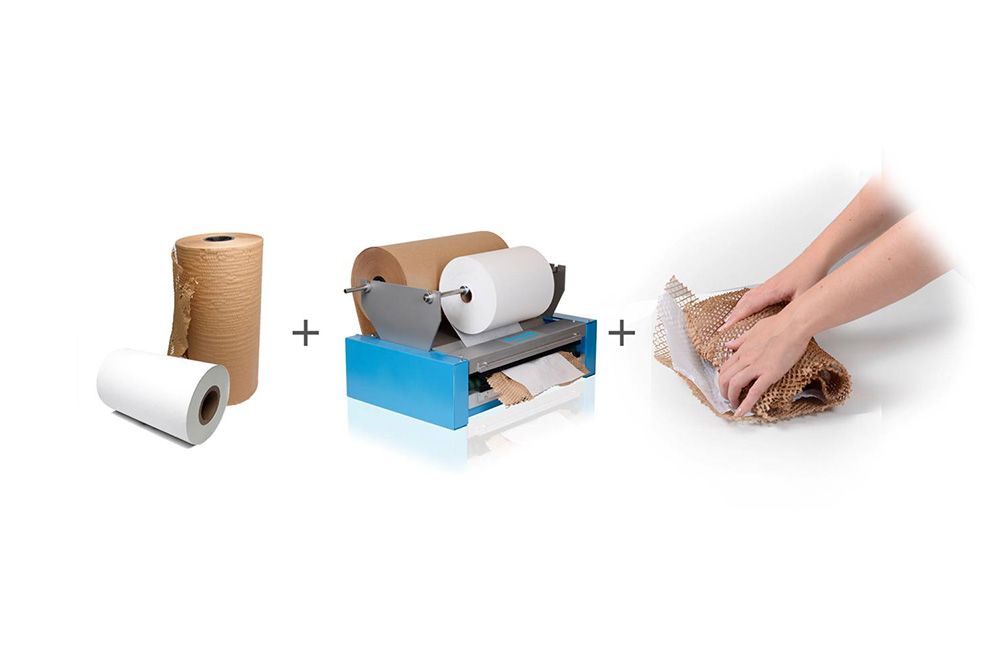 Request
Do you want to experience the possibilities of Geami WrapPak (HV) closeby? Please contact us for a noncommittal demonstration. Our packaging experts can identify your packaging needs and offer a suitable solution.