Shrink machines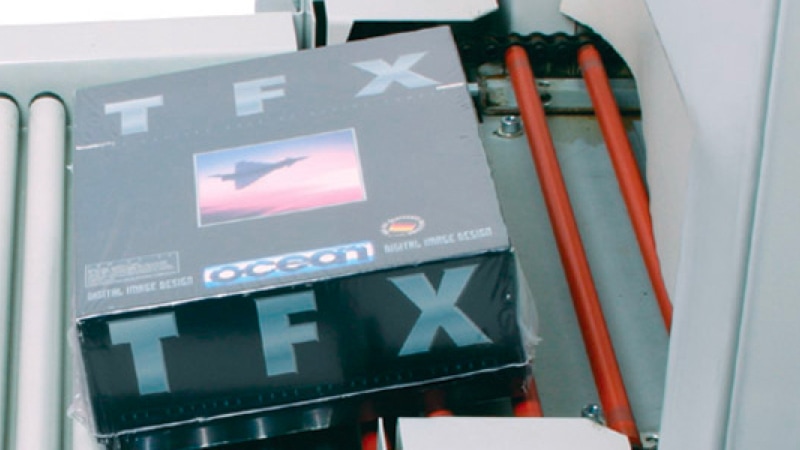 For the packaging of your products in a sleek transparent packaging we can supply (shrink) film and machines, such as a koepelsealer and a shrinking machine. These are characterized by the high quality and longevity. Want to learn more about the possibilities? Please contact us.
A koepelsealer is a sealing machine with a dome. These sealers are ideal for shrink packaging of small to medium production quantities. A koepelsealer seals and shrinks in one operation under a transparent dome. The dome remains closed during sealing by means of an electromagnet.

Features koepelsealer:
Sealing and shrinking in one operation
Magnetic closure: dome opens automatically seal / shrink cycle
Adjustable seal temperature
Large air circulation fan for many with excellent shrink capacity as a result
PTFE-coated seal / cutting with long life
Shrinkage time (self-correcting) and temperature control by microprocessor
PCB with LCD display parameters text in different languages
Adjustable shrink-delay time for sealing very thin film
Adjustable folieperforators
Height-adjustable work surface
Solid machine housing with swivel casters with brakes
Possible packing cycles: only sealing, sealing and shrinking

Shrink combinations
The sealer and shrink tunnel combinations are suitable for large production. Due to the precise tuning of the speed and the sealing temperature all common types of shrink film may be used on these machines. The machines have an epoxy coating and a seal system with impulse sealing wires which are provided with PTFE. The conveyor belt which carries the product through the tunnel in speed is adjustable and variable and can be adapted to different product heights.
Fields of application: Shops, factories, studios, printing, publishing, food processing, clothing Types of products: This shrinkage machine can be used excellently for various products including chocolates, crackers, tablecloths, books, CDs and DVDs, boxes to pack along with content or vegetables. Packaging material: The crimping machine uses as shrink film of polyolefin, PVC, LDPE film half-tube. Functions seal shrinkage combination:
Unique temperature control system
Electrically powered conveyors, height adjustable
Heavy-duty design for industrial applications
Integrated foil tray
Live / dead roller system for use of different film types
Magnetic hold-down stysteem to guarantee seal quality
Seal Temperature Control
Digitally controlled tunnel with 360 degree ventilation
Adjustable airflow tunnel and tunnel conveyor speed
Adjustable packing table and folierolophanging with spiked roller.
Tunnel Curtain minimizes heat loss and ensures stable temperature
(Semi) Automatic shrinking packaging machines
Seal Machine combined with a shrink tunnel for medium to large production numbers. This is the most advanced machine in the crimping machine-line, the "EL-MATIC" fully automatic L-sealer. This machine can be combined with the specially developed for this sealer "TE-MATIC" tunnel so as to generate a high production output with an excellent shrinkage result. The EL-MATIC can also be carried out in stainless steel.

Application areas Packers wages, printing, factories, food processing Types of products Books, CDs, DVDs, magazines, stationery, components, lamps, components, cans, jars, PET bottles, candles, picture frames, decorative materials, boxes, bags, bread, napkins, drink packages, aerosol cans, plastic cups (disposable) plates , batteries, soap blocks, etc. Packaging Shrink film (Polyolefin, PVC or LDPE semi-tubular) Features EL MATIC:
Continuous automatic sealing cycles
Electronically adjustable angle sealing window
User friendly control panel with menu-driven backlit LCD
16 bit microprocessor
programming Several user settings (20 programs)
Seal- / cutting bar with Teflon Coating
Suitable for Polyethylene and Polyolefin half tubular film (microforatie)
Tape speed infeed belt electronically adjustable
The package is fed from the aid of the machine motorized conveyor
Automatic storage / read-out production statistics
Shrink tunnels
TE-MATIC shrink tunnels for the L-sealers and EL-MATIC

Features TE-MATIC:
Adjustable temperature tunnel
Adjustable belt speed
Airflow adjustable aid of adjustable nozzles
Use silicone-coated 'life' roll band tunnel
Control panel with backlit LCD
Automatic "cool down" mode at the end of the shift
Reduced energy consumption
Manufactured in accordance with applicable EC directives
Plastic bags LDPE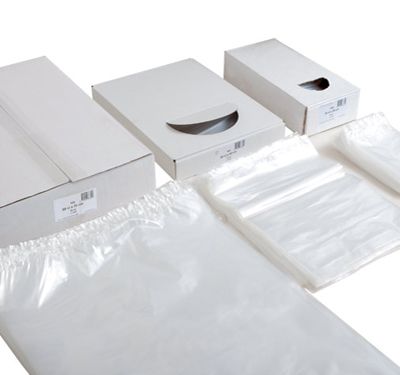 For repacking and / or bundling your products we supply from stock, various sizes of LDPE bags for a very competitive price. Our bags are repackaged in neat white boxes.
Transparent
Recyclable
With bottom seal
Delivery from stock
Choose the user and ready-to-use LDPE bags!
Tube foil
When using most hand and tafelsealers we recommend the use of transparent polyethylene tube shape of excellent quality. The various versions are: anti-static film, micro-perforated, colored and / or printed film.
Shrink foil
We supply from stock shrink film, polyolefin film half-tube in different roll widths and thicknesses of from 15 to 30 microns. Other sizes and thicknesses are available on request