Pallet stabilisation
Stabilizing of pallet loadings can be done in a lot of ways. With choosing the right solution we look, among other things, to the transport, the handling, the products, weight and the packaging. One of the most important criteria by chooising the stabilization method is damage free transport, but also a high processing speed, costst and the environment (less waste) are guidelines for a good choice.
Unique stretch foil with fibers
The wrapping (stretching) of a loaded pallet with foil is one of the most common and fastest ways to stabilize. Pallets can be stabilized with as well pre-stretched as not pre-stretched foil. The most pallet loadings are stretched machined, whereby - dependent on the machine - the foil is pre-stretched. Generally there can be said that the more irregular and heavier the loading, the thicker the foil has to be of the more layers are needed. Fiber Film is a strong, and yet very thin, transparent stretch foil. Because the film is strenghtened with horizontal fibers, the pallet loading stays firm together and tearing is prevented.
Calculation tool
A handy calculationtool shows easily what the savings could be. With a few variables you know enough. Less wrapping, improved tuning of the machine and foil, less roll changings are a few examples that will be visible. Please contact us for more information.
Benefits
Besides benefits as pleasant to work with, light in use and less waste for the receiver, there is also an important benefit that this Fiber Film can yield a saving up to 50%. This will be achieved because there is less material needed, less handling, less waste, etc.
Folie is light en user-friendly
There is less material needed because of less wrappings
Costs per pallet reduces
Improved stability because of extra reinforcement of fibers
Less waste for the receiver

TEST FACILITIES
We are using advanced test facilities for the stimulating of the distrubtion taxes and you can let a loaded pallet be tested by means of vibrating, shocking, falling and compression tests. By simulating the transport we can give you advise for optimalisation of your pallet loading. With our verpakkingstests packaging test you can prevent transport damage and save logistic costs. There is a specific foil-calculation tool in the making, where you can get a first impression quickly about the possible savings on foil for you own situation. Please fill in the contact form when you want to be kept informated about this tool.
Break glue

Glueing of pallet layers is an increasingly common solution for pallet stabilisation. Dispersion adhesive (cold break glue) is provided with an installation which applies stripes on the packagings. This causes the layer to be stuck and not moveable anymore. Break glue can be used on a lot of underground, such as paper, plastic and corrugated cardboard. Lock n' Pop®is an on water bases glue which does not let a sticky layer behind. When a packaging is lifted, the glue layer breaks, without damaging the packaging. Break glue can pre-empt the use of foil and is environmental-friendly because less waste material is remained.
Applications
Lock n' Pop® is used for various pallet loadings:
Boxes
Paper bags
Plastic bags
Trays with shrink foil
Printed packagings
Specific applications, such as freezer, chilled and heated
Benefits
Less packaging waste (less stretch foil needed)
Saves indirect costs
Sustainable by less CO2 emissions (higher pallets and less to make kilometers)
Increase product capacity by efficiency
Are you curious about the possibilities of break glue, look at a few customer cases.
Shrink foil and stretch covers
For heavy and variegated pallets such as bags on pallets or building materials, shrinking with shrink foil or using stretch coves are good solutions. The firm foil has a extremely high puncture resistance and keeps his firmness also during longway transports. With shrinken the pallet and loading are connected. Applying the shrinking covers can be done manual (shrink cannon) or machined (shrink tunnel). A stretch cover is shoved over the loaded pallet by machine. A stretch cover is one piece and that is why it is dust and rainproof.

Anti-slip sheets
In order to prevents shoving of the pallet loading, anti-slip sheets made of paper, cardboard of plastic are also a good alternative. Anti-slip sheets are commonly used with column stacking and with products with a low frictional resistance. An example of an anti-slip solution is PAL-CUT®. This paper dispenser cuts fast and accurately sheets of paper layers on a programmed length.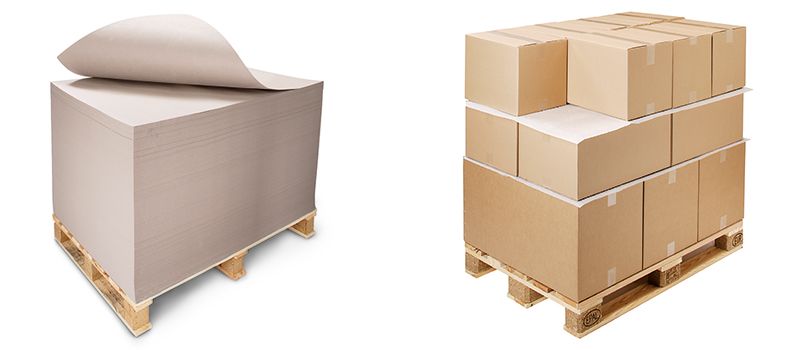 Strapping ties
Strapping pallet loadings with a tie supplies a firm and stable loading. There are strapping ties available of plastic or steel. Steel band is commonly applies with shaped loading such as wooden packages, chests and rocks. Other (temporary) stabilisation methods are PE-stretch ties and elastics. They are commonly used to secure the top pallet layer, which can be handy with intern transport or transport for short distance. PE-stretch ties and elastics are also used to secure corner sections, cover sheets or flat foils.