Pallets and export boxes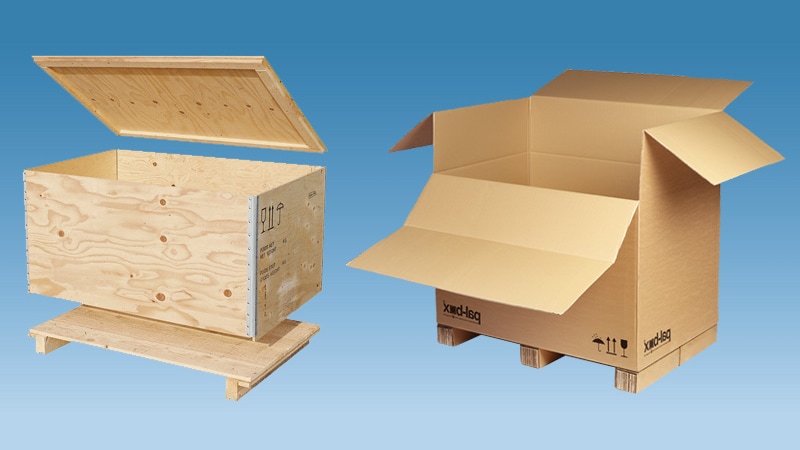 For export and pallet packaging we have products for light and heavy applications. For instance wooden export boxes, pallet boxes made of corrugated cardboard, integrated pallets and other reusable packaging.
Contact
If you have any questions, please contact us.
Pallet box in double or threefold wall cardboard
When packing up a pallet a so-called 'over box' can be used, protecting your products and disguising them for the outside world. These can be supplied with or without loading flap. The pallet boxes with loading flap make it easier to pack up products more neatly.
Pallet box for airfreight
These are containers of threefold corrugated cardboard that meet the requirements for airfreight containers established by IATA. Airlines give extra tarra and container discounts when transporting articles in these containers.

Palletbox X-ply
The pallet box X-ply is the alternative for a wooden crate. It is a robust folding box made with crossed corrugated cardboard. This corrugated cardboard characterizes itself through a high stiffness and a torsional rigidity, making the stacking rigidity much higher than with conventional corrugated cardboard.
Palletbox PAL-BOX
Pallet box PAL-BOX® is a container box made of heavy corrugated cardboard with integrated pallet floors. Setting it up is done very quickly and especially easily. On the lower outer long flaps of the container there are 6 half shells (3 on one side and 3 on the other flap) attached. There is no carpentry or difficult folding necessary.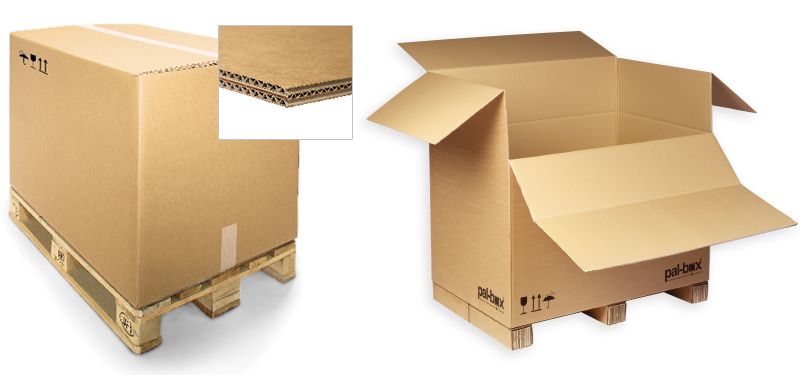 Palletbox Easy Load
Easy Load is designed for the quick construction and ergonomic loading. Consisting of a bottom (that could be attached to a ISPM15 pallet), 2 U-shaped sides and a lid.

Wooden boxes are made of 6 or 10 mm plywood or birch wood, one of the strongest kinds of wood. The bottom depends on the model, also made of birch wood with girders or skids. The crates or fortified with metal hinges. Your products are also protected from weather conditions because the crates are insensitive to temperature changes.
Certified for export
Crates that have been treated and fully ISPM 15 certified can be used as universal export packaging for all areas and especially in certain areas/countries where there are very strict requirements for the import of packaging wood. Certificates can be acquired upon request. Of course the crates meet the international requirements for packaging wood.
In the world standard ISPM 15 measures have been established to guarantee that living vermin will not spread through the wooden packaging. ISPM 15 describes the treatment of wooden packaging, so that any present damaging organisms are killed. Wood that is used for the creation of wooden packaging and dunnage, should be treated and marked before international transport. Among other things, ISPM 15 indicates which products should be treated, the methods that are allowed for this, and the way in which the markings should be applied to these products. Buyers and users of wooden packaging are guaranteed worldwide transport with ISPM 15 without problems. Despatches with wood according to the ISPM 15 need no phytosanitary certificate or plant passport; the brand is proof that the wood is in order. Wooden packaging with the brand, offer the guarantee that they meet the requirements according to ISPM 15. So the producer / repairer / practitioner / tradesman does not need to show a separate treatment or other certificate. In the Netherlands these international requirements are converted and processed in the Manual SMHV. In the Manual SMHV there are national requirements that your company has to meet to be registered with the Foundation Marking Wooden Packaging. Bron: SMHV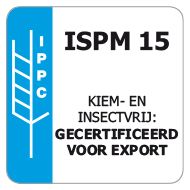 Download guidelines