A new, ergonomic way of closing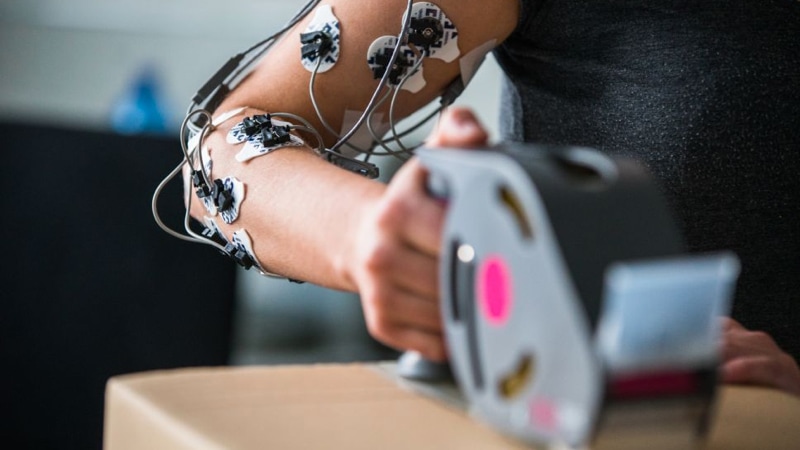 The days of sore wrists are over thanks to ZeroTape®
ZeroTape® is a quality tape with a special small core (38mm) which has to be used in combination with the special ergonomic dispenser. Due to the special core, up to 150 metres of tape can be stored on a roll instead of the usual 66 metres. This initially results in smaller volumes, less CO2 emissions and less storage volume and ultimately also in less waste. The innovative ZeroTape® dispenser ensures a strongly improved posture/movement, especially of the wrist. An extremely good, ergonomic improvement compared to ordinary dispensers in the market.
Only advantages…
100% ergonomic closing with dispensers
CO2 neutral production
75% less stress on muscles in the wrist, arm and shoulder
25% less muscle activity
fewer roll changes due to almost three times longer rolls
easy and fast unwinding with ventilated handle
silently
cheaper than pvc tape
less waste, environmentally aware
rolls off smoothly
Change the world of packaging
ZeroTape® - A completely new dispensing system is revolutionising the world of packaging.
Developed by a talented team of design engineers, every aspect of the packaging process was analysed during development to see how it could really be improved.
With its ergonomic design, advanced functionality, ease of use and productivity benefits, ZeroTape® is an excellent new product that will please every packaging department!
The days of painful wrists are over, thanks to ZeroTape®.
University of Siegen, Germany
In cooperation with the Department of Ergonomics at the University of Siegen, the innovative advantages of ZeroTape® were scientifically investigated and confirmed in comparison to the ergonomic properties of different tape dispensers.
The study shows an enormous improvement with 75% less strain on tense muscles in the shoulder and forearm when using ZeroTape®. The muscle activity decreases up to 25%.
Therefore ZeroTape® is recommended by scientists from an ergonomic point of view.
Ergonomics award
In recognition of the necessary importance of ergonomics for the employees of packaging companies, ZeroTape® received the prestigious ECN award for outstanding product development.
The renowned "Ergonomics Competence Network" (ECN) aims to promote science, research and education in combination with the exchange of knowledge in the areas of ergonomics and labour science.
Contact
If you have any questions, please contact us.