Protrac/JRZ aiming for less with Topa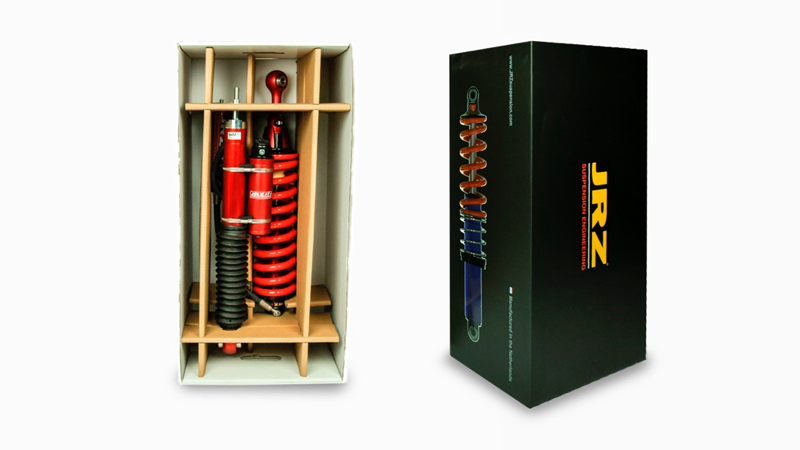 It's now no longer plastic foam but cardboard absorbing shocks during the transportation of high-end shock absorbers
Topa has been developing packaging for this company from Uden, specialised in creating high-end suspension systems and shock absorbers for exclusive sports cars, for many years.
We have a great relationship with JRZ. We worked together to look at developing sustainable packaging for suspension systems without compromising on optimal protection during transportation.

Erik van Zeil
The new sustainable packaging delivers a reduction in CO₂ emissions
Until recently, the coil springs were packaged in plastic foam.
The customer wanted to replace this plastic foam with sustainable cardboard. Cardboard is an environmentally friendly packaging material, since it's made from recycled material and is fully recyclable after use too. So the Topa Institute developed a packaging solution in which the protective material on the inside was also made entirely from cardboard. Another advantage of this solution is that mono-material is easy to recycle, since there's only one waste stream.

Erik van Zeil
The fully cardboard packaging delivers real wow factor
The sustainable suspension packaging provides a fantastic unboxing experience.
The box and the interior are both show items. The transport box is made from white EE corrugated cardboard, and the insert is made from brown BC corrugated cardboard. The printing with spot coating turned out great too. The response to the product and packaging has been very positive. From our customer, JRZ, and from their customers too. International vloggers are even creating their own videos and posting them online.

Erik van Zeil

Nothing shocking to report in terms of damage either
The shock absorbers, each weighing 9 kg, are sent all over the world in their transport packaging. The cardboard inserts are providing fantastic protection.
The shock absorbers arrive in perfect condition. The damage percentage is nil Product Development Manager.

Product Development Manager
Contact
If you have any questions, please contact us.