Proud third place Greener Packaging Awards with Fiber Film and Fiber Wrapper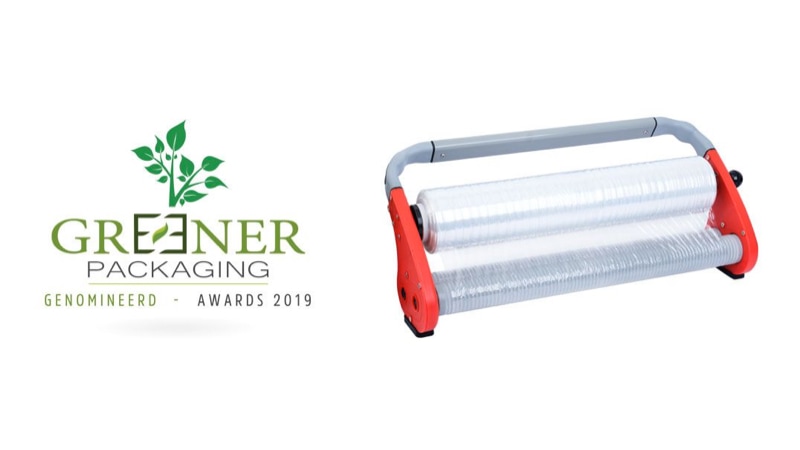 On Wednesday 23 October, the Greener Packaging Awards were presented. The Greener Packaging Awards is a joint initiative of Fost Plus, Valipac and Get Smart (in) Packaging, to put sustainable innovations in packaging in the spotlight. Companies that develop environmentally friendly and sustainable packaging could apply via the website of Greener Packaging. Topa Packaging was nominated with its Fiber Film and Fiber Wrapper in the category 'B2B' and finished on a beautiful third place!
About the Fiber Film and Fiber Wrapper
Fiber Film and Fiber Wrapper perfect stretch film by providing increased pallet stability with reduced consumption. The strikingly light design of Fiber Wrapper achieves an ergonomically sound wrapping process. In comparison with the holding force of standard stretch films, the difference is enormous: a standard stretch film requires 13 kg of force to achieve 10% stretch, with Fiber Film one achieves 30% at 7 kg.
Wrap up to 25% more pallets per roll
In addition, Fiber Film, compared to other stretch films, wraps up to 25% more pallets per roll. Because the film is thinner, up to 50% less film is used, while Fiber Film increases pallet stability through horizontal fibres (reinforced threads) in the film. Thanks to the Fiber Wrapper, the pallet is wrapped faster and with less effort. The benefits are therefore threefold: ergonomic, productive and ecological. CO² emissions and the risk of sick leave and damage are reduced.

Fiber Wrapper relieves the worker during the wrapping process: the same effort produces more holding force and greater load security. The pallet load is wrapped faster and more efficiently. The film can be wrapped around the load in a relaxed position. Partly due to the use of the Fiber Wrapper, the Fiber Film is wrapped tighter around the load. This ensures a greater holding force, which prevents shifting. This greatly reduces the risk of damage to the transported products.
Calculate your benefit or contact us
Using our online calculation tool, you can quickly see how much film you can save per year with Fiber Film.