What is involved in developing packaging? Part 3: packaging design!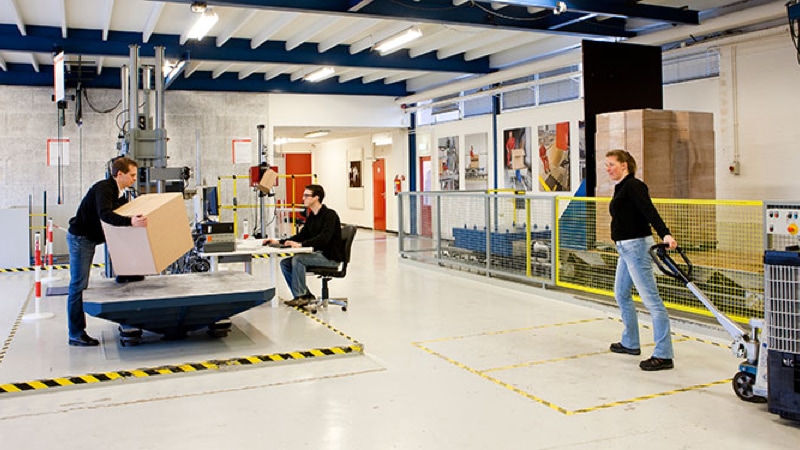 You want your products to reach your customers in top condition. It is therefore crucial that your (transport) packaging offers the right protection. As a packaging specialist, we have our own test and research centre: Topa Institute. A testing environment where every step is so meticulously calculated, recorded and checked that even our competitors are happy to come to our lab to have their packaging tested.
At Topa Institute, you can choose from a wide range of standard packaging. But you can also have packaging custom designed for your product. We would be happy to tell you what this involves.
"The starting point is the vulnerability of the product and the transport route."
If customised packaging is chosen, the customer puts a package of requirements on the table. Packaging engineer Erik van Zeil: "In packaging design, two things are the starting point: the vulnerability of the product and the transport route: the way the product travels. That could be by parcel service in Benelux or by sea container to the other side of the world. With general cargo transport, you have to take into account outside drops and shocks. And with a container shipment worldwide, you have to ensure an optimal pallet/container load, where the box is strong enough to support the weight of the boxes above it and also withstand extreme temperatures and humidity.
"A lot of packaging we also test."
Erik: "The requirement for any packaging we design is that the packaging protects the product during storage and transport. In addition, the customer may have specific requirements and wishes in terms of presentation, handling and environment. On this basis, we go to work with all our knowledge and develop a tailor-made packaging. We also test a lot of packaging. Sometimes damage occurs after a test. That is very instructive. Because then you see very quickly and clearly where the problem lies and where the packaging can still be improved. This allows us to come up with a solution quickly."
"Every piece of cardboard, wood, foam or plastic in the packaging has been thought through."
Erik: "You make a design and if it passes the test, the packaging is good. Otherwise, you start adding pieces until it does work. We look at which material we can best use. But especially not too much. Every piece of cardboard, wood, foam or plastic in the packaging has been considered. Many customers want packaging made entirely of cardboard. Due to the fragility of the product and the transport route, this is not always possible, because the shock-absorbing properties of cardboard are not as good as those of foam. Then we try to make a combination of foam and cardboard. In this way, we create 'the best of both worlds'.
What distinguishes Topa is that we have all the materials in-house to develop packaging. We also have a large range of standard items, which we can use in our designs. This allows us to produce packaging for customers quickly and flexibly."
Would you like to have a unique packaging design created that optimally protects your product during transport?
Contact Topa Institute: +31 252 245 350, or send an e-mail to info@topainstitute.com.
Contact
If you have any questions, please contact us.