Interior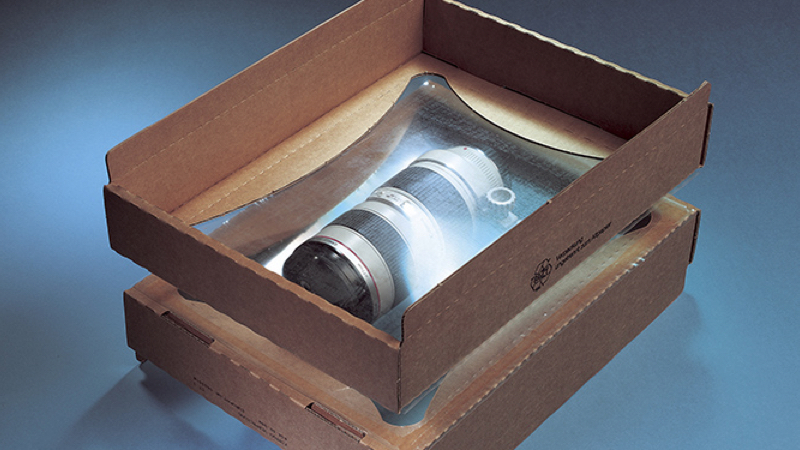 With the Korrvu® Suspension (Sealed Air) suspension packing the product will be hanged between two layers of foil which are separately strained on a framework. This foil has the characteristic to take the shape of a product entirely without ripping or perforating. The clamping is obtained by pushing the product in the layers of foil, so that the outer box holding everything under tension.
Order online
Check out the products within this category that are directly available in our webshop.
Go to the Topa webshop
Contact
If you have any questions, please contact us.
Suspension package
Korrvu® Suspension suspension package is designed for protecting product during the entire transport way, even after falling repeatedly. The firm and resilient foil maintain his effectivity for returns and multiple use. Korrvu® Suspension offers your product and package an attractive appearance and the right shock absorption.
Characteristics
| | |
| --- | --- |
| Framwork | Corrugated cardboad framework on request, both in single as in double corrugated available |
| Foil | Polyurethane on 50, 75, 100, 125, 150 of 200 micron. Flexible, tough and strong with a high stretchability |
| Bonding | Polyurethane glue on waterbased |
| Outer box | Depending on the application |

Fixative packing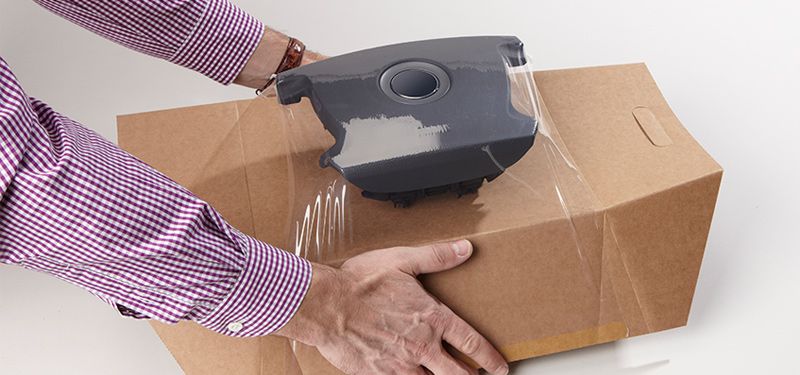 Korrvu® Retention offers an excellent protection for light to medium products which need a limited degree of protection against shocking during transport or handling. Korrvu® Retention fastens your product securely inside her own frame. This packaging uses elastomer foil to secure the product safely, while it offers an excellent visibility for the product.
Korvvu® Tablet and Korrvu® Laptop
Korrvu® Tablet and Korrvu® Laptop are both inserts which consists of a cutout corrugated cardboard sheet with theron glued a PU foil with unique, flexible characteristics and high attention value. The Korrvu® Tablet has a layer of PE-foam extra in order to protect the back of the tablet against scratches. Both are used in combination with two original boxes, wherby the Laptop got extra space to fold a compartment in order to pack a cord and adapter. Extra suspension is obtained by folding pieces of the corrugated cardboard sheet inwardly. Because of this, the package is not only for fixation but also suitable for shock absorption.
Characteristics
The interior is a sheet of cutout corrugated cardboard with theron the glued PU-foil.
The laptop or tablet is secured between cardboard and foil.
The folded carboard gets extra suspension through the special cutoutframe which is processed in this design.
The other part is the shipping box, made of extra tough corrugated cardboard.
The shipping box has a seperate space to store and send cables.
Product is after opening the shipping box immediately visible.
Benefits
Product is safely secured in the middle of the shipping box.
All-round application for components and accessories in the automotive or electronics market.
Wide protection against shocking and vibrations.
Reusable for the firm foil.
No filling material needed.
Applications
Safe shipping of vulnerable products.
Packaging solution for laptops and tablets which are sended for reperation.
Suitable for returns through reusability.
Combination suspension and fixate packaging
Korrvu Hybrid® packaging combines the benefits of both the suspension packaging as well as the fixate packaging. This packaging is ideal for products that needs surface protection (such as Korrvu® Suspension) and fixation (Korrvu® Retention). It is recyclable and contains more than 30% recycled paper. Korrvu Hybrid® is available in a standard size 285 x 185 x 135 mm. Other sizes can be fabricated on request.