Air cushioning machine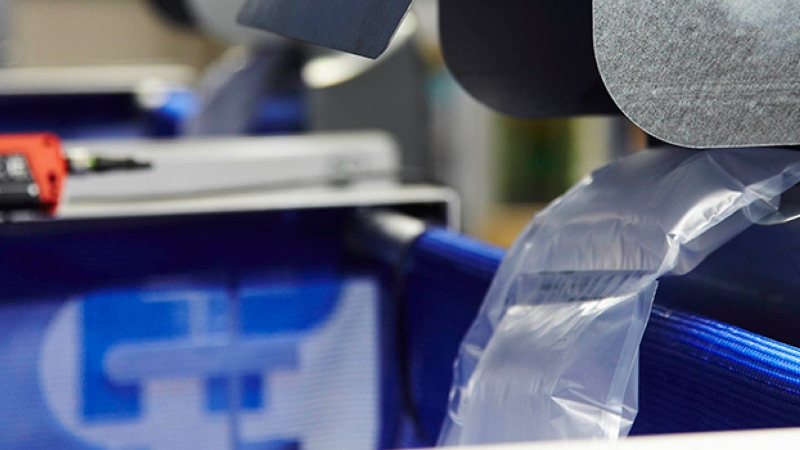 With automatic air systems the supply of bloated air cushions is distributed more efficient. An air cushion machine and collection bags are used with this. The benefit of air cushion is that - because of the use of air - there is less material needed for a good protection. Look at the possibilities of our automatic air cushion system and machines.
Order online
Check out the products within this category that are directly available in our webshop.
Go to the Topa webshop
Contact
If you have any questions, please contact us.
As supplier of air systems, the machines below are well-known as reliable, fast, compact and always ready to use. Fast handling, space saving and good protection of the product are the assumptions. The compact systems can also be integrated in your packaging line. A machine can aslo provide various packaging stations.
MINI PAK'R

A small, simple air cushioning machine which makes it possible to produce air cushions where and whenever you want it. You can choose from 5 different air cushions (Supertube, Double Cushion, Quilt Air Large, Quilt Aire Small and Cell-O EZ) which can be used for different purposes.

CELL-O EZ II

Specially designed for intensive use, is the Cell-O™ EZ II, suitable for bigger distribution centers, but also for smaller applications. The Cell-O™ EZ II is one of the fastes air cushioning machines in the market and produces ca. 3 m3 fill material per hour. The foil, which is provided with a perforation and sealing, is availabe in various measures: 200 x 065 mm, 200 x 130 mm, 200 x 200 mm.

NOVUS

The NOVUS air cushioning system is a good replacement of the traditional packaging material, such as paper, foam-in-place or bubble wrap. Via a intern air supply, the pretreated foil gets bloated until air cushions, where and whenever you want it: in an in-line setup of at a small packing station. There are various accessories available to widen the ease of use of this unique air cushioning system.

PILLOW PAK'R

Save space and money by replacing traditional bubble wrap by PILLOW PAK. Handling, transport and storage takes considerably less time. By the unique air room system, PILLOW PAK is an excellent alternative for traditional packaging materials; you can simply wrap bigger/broader areas and protect your product at the same time!
Integration with a product line
An air cushioning machine can be integrated very efficient in your complete product line. Our packaging experts will come by to look at the ideal solution together with you.
In close collaboration with our customers, we see that after the year volume of air cushions increases, there is more need to minimalise the road between the production of the filling material and the packing stations. This is made possible by Automatic Delivery System (ADS). This system guarantees a continuous supply of bloated air cushions directly to the packaging station, whereby valuable workspace is saved. A lot of our customers are alreay using the handlings benefits which ADS offers. Would you like to know more about your logistic process? Please contact us.
Benefits ADS
Always packaging material available
No back and forth walking with packaging material
Space saving, the pack table stays free
Air cushions are cut off on the desired length
Innovative, 100% customized adapted to your logistic situation
No high investment costs, various financing possibilities
Existing systems can be expanded modular
Working of ADS
An ADS is ideal for companies which have multiple packing stations. One machine supplies one (Single Bin) or multiple machines (Multi Bin) with air cushions. The air cushions are transported in strands (you decide the length) via channels to bunkers which are hanging above the packing stations. The bunker is provided of a sensor which is connected to the machine. When the bunker reached a certain level, the air cushions are transported to another bunker. The size of an ADS depends on the amount of packing places, the length of the packaging line and the amount of air cushions that are needed. An ADS is a customized solution.