Cardboard boxes
American folding boxes (FEFCO 0201) are known as standard boxes and are the most common packaging to be used for the transportation of goods.
They are usually made of corrugated cardboard en provide very good protection for many products.
Corrugated cardboxes
Cardboard boxes are provided in many different forms. There are standard sizes and styles, but they can be completely customised. Corrugated cardboard is undoubtedly one of the most dynamic packaging solutions and offers many advantages to users. Our packaging professionals can create a customised American folding box together with you, that meets your wishes and needs. Furthermore, punched functions, tear tape and perforations can be added. The boxes can also be supplied with high quality pressure (flexo or offset). Our American folding boxes are 100% recyclable and manufactured sustainably, suitable for both manual and automatic processing.
Advantages
Very lightweight
Simple to produce
Less transport damage because of high quality corrugated cardboard
High stacking resistance
Versatile packaging product, can be used in many industries
Plano delivery and space-saving
Can be processed quickly in an automatic packaging line
100% recyclable and made of a renewable source
Relatively low purchase costs
Size display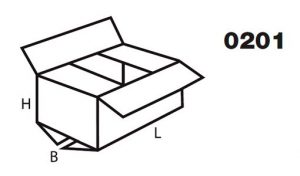 Closing methods American folding box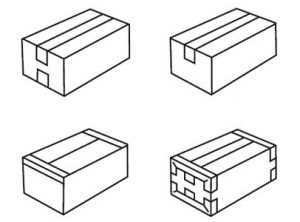 Type of corrugated cardboard
The choice of a certain kind of cardboard depends on a number of factors, like the product to be packed, the application and the desired presentation. Boxes made of single wall cardboard are very suitable for the storage of packaged products during transport. This quality is usually recommended for the packaging of light and a couple of fragile products. For heavier products boxes made of double wall cardboard are used. For export, long-term storage or extra heavy goods threefold wall corrugated cardboard boxes make the most suitable packaging.
| Type | Suitable for | Weight |
| --- | --- | --- |
| Single wall | Light and non-fragile products | < 5 kg |
| Double wall | Heavy and fragile products | > 5 kg |
| Threefold | Export, long-term storage, extra heavy products | > 10 kg |
General applications
Can be used as commercial medium
Multifunctional transport and storage packaging
Storage of packed products during the transport
Protection of light, fragile products to extra heavy industrial applications
FEFCO codes
FEFCO (Fédération Européenne des Fabricants de Carton Ondule) is a European organisation of 14 international corrugated cardboard producer. FEFCO codes are made to create uniformity for the various sizes of the boxes. This way it gets easier to talk about a certain type of box. Every model has its own FEFCO code. The most common model is the 0201 or the American Folding Box; 4 flaps on the underside and 4 on the upper side.
Printing techniques
By giving your packaging a high attention value you can set your products apart from those of the competition. As packaging professionals we see the importance of the (marketing) communication with your customers and the quality of the printing is an equally important part of this. Because of the high quality of printing and precise marketing strategies, packaging is used as a communication medium more and more often. With the help of offset or flexo printing techniques we can even print photographic images on your packaging. For more information about the possibilities with regard to the printing of boxes, click here.